Yesterday evening I headed to the Lola's cupcakes counter in Selfridges for an early-week pick me up. Technically I am supposed to be trying to cut down a little - I'm busting out of some of my size 10 clothes - but decided that visiting Niketown to buy some new jogging leggings to wear later in the week was activity enough and I deserved a little reward. I'd previously had Lola's vanilla cupcakes at a work do and not been hugely impressed - the vanilla flavour was too strong and too artificial but I was prepared to give them the benefit of the doubt, and give their undoubtably pretty cupcakes another try.
The counter is in the foodhall, just in front of the Pierre Herme counter and back to back with the more generic bakery. It offers cakes to take away but also seating - although I couldn't see any drinks on offer to accompany said cakes. By around 7pm there was no queue, and some of the flavours were sold out.
The overall look and feel is quite cutesy, but in a minimal, designed fashion. The cupcakes come in a staggering variety of flavours and both mini and maxi sizes. They look much more artfully iced than their Hummingbird rivals - the frosting is stiffer - sitting in carefully piped formations. Hummingbird tends towards a more home-baked look. And unlike Hummingbird, the focus is solely on cupcakes and large event cakes instead of a diverse range of pies, brownies, cookies and so forth.
The packaging and visual material is also a delight, the duck egg blue boxes and neatly designed menus look great as do the colour coded circles which mark each flavour both in store and on the website.
I selected two mini red velvets, a large chocolate and a large banana, intending to offer the banana flavour to Mr LROC.
Whilst I never normally go for mini cupcakes (why have less?) the mini red velvets were divine, each comprising about two mouthfuls, the balance of frosting to cake was perfect. The cream cheese sweet but not too vanilla-y with a generous sprinkling of red velvet crumb. Banana followed their excellent example. I was given a sample size portion from my ever-generous husband and again found a moist banana-loaf style sponge topped with a light yellow cream cheese frosting reminiscent of good homemade carrot cake. However, I was disappointed with my chocolate cupcake, which I found to be bland and a little on the dry side. The frosting was neither rich nor creamy, and it could have easily been both; and the cake was dry and dull. I expected to come across a gooey chocolatey centre or even more cream cheese but just found more cake.
Verdict: great visuals and a brand identity and the mini red velvets are tiny nuggets of heaven but steer clear of the chocolate. Prices are slightly higher than the Hummingbird bakery, but overall the cupcakes are a little bigger.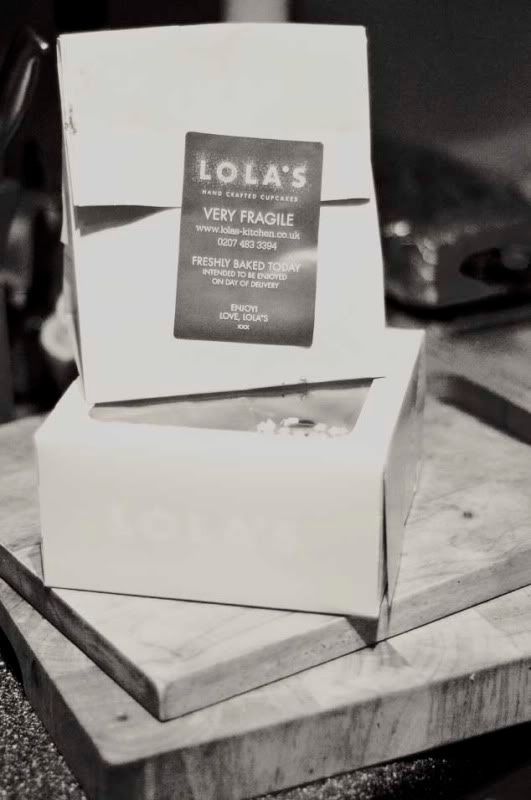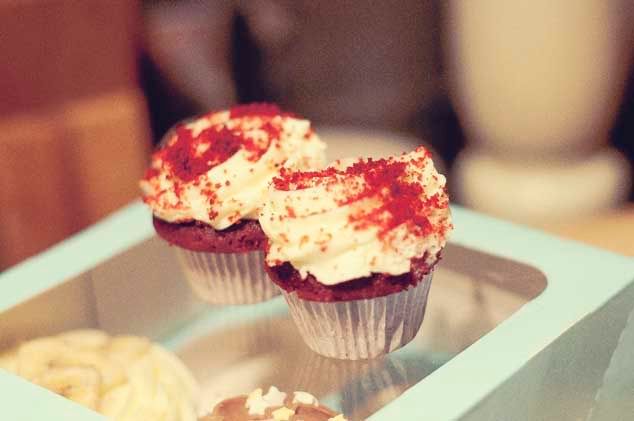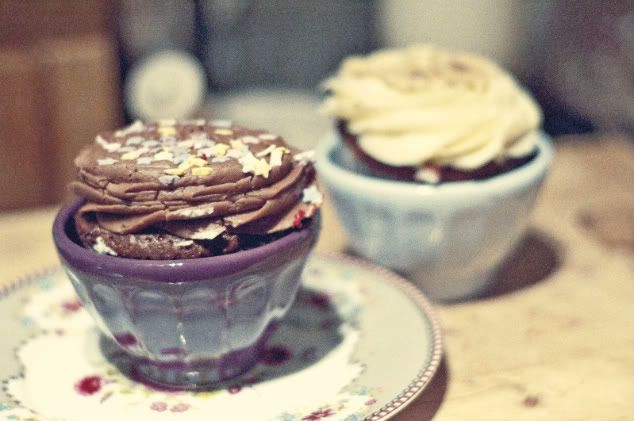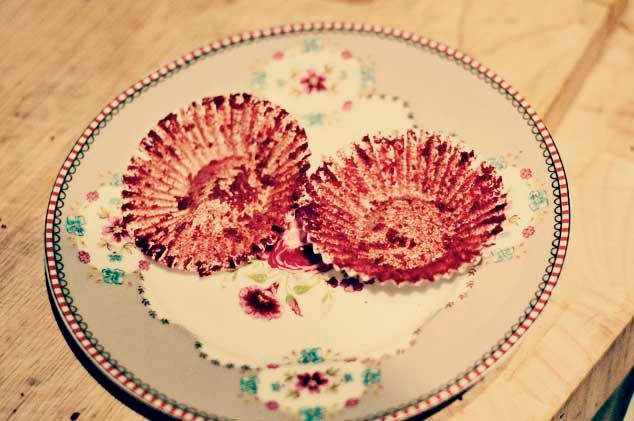 As well as the Selfridge's concession, they have outlets in Topshop, Harrods and do deliveries direct from their Primrose Hill bakery (is this area just bakeries? It seems that way, how do they afford the rent?). Their website is http://www.lolas-kitchen.co.uk/index.html.