From time to time it's good to get out of the city, especially if you can combine a parental visit and cakes too. To that end we decided to treat the mother-in-law to lunch at Byfords in Holt.
Holt is an affluent little town in North Norfolk, full of shops selling fancy homewares and oil paintings of sea side landscapes. It's a magnet for visiting Londoners, and Byfords reflects that perfectly being both deli, cafe, restaurant and 'posh' B&B. The word posh seems to pop up frequently on their menu, used to describe anything that used to be naff but now in our savvy post gastropub era is now the acceptable face of honest British cooking. It's like they don't quite trust their customers to appreciate and understand that.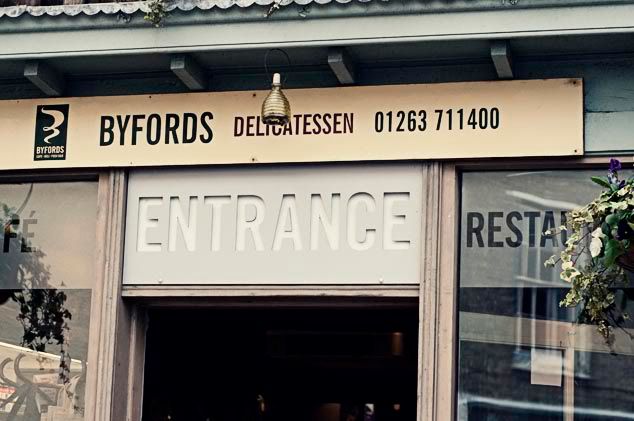 Entering through the deli, one is greeted by the pungent buy extremely enjoyable smell of cheeses from their ample cheese counter. The deli also has a great range of olives, organic and locally brewed beers, cakes, sandwiches and salads to take away and so on. It's well stocked and a great place in it's own right to buy a picnic lunch for any slightly warmer times to be taken to the nearby coast. They stock cakes and bread from Popina (I blogged about their Broadway Market stall
here
) as well as making and selling their own cake under the name 'Sponge'.
We were seated in the cellar of the huge eating area, there was a big queue when we arrived, which seems to be evidence of how popular the place is. The menu is divided into several sections - bready things made up the bulk of the lunch menu, but there was a strong offering of homebaked pizzas too, and main meals such as risotto or steak were available too albeit priced fairly high for a quick lunch. I ordered the focaccia melt, the mother in law opted for their take on eggs benedict, and Mr LROC opted for a mackeral paste sandwich with chunky 'posh' chips.
When the food arrived I was a little disappointed because I'd been led to expect so much. I was expecting brilliance, but it was merely good. The topping on the melt was delicious - cheesy rich and beautifully tender veg but the bread could have been better loved, the salad was a little plain despite the presence of olives, sun dried tomatoes and pickled onions. I could barely taste the promised pesto dressing. Eggs Benedict looked good, but I don't think much could compare to the bargainous and tasty eggs at the Premises on the Hackney Road which comes with an extremely generous helping of hollandaise sauce.
Desserts fared slightly better, as well an extensive range of ice cream they had lots of cakes on the menu; I opted for the lemon variety of the own-made 'Sponge' cake. It was perfectly baked - just the right amount of spring in the sponge, a golden yellow colour and moist. I understand that they are selling the brand on to other deli's but it felt too professional - almost too good, too slick and I think an overdose of the lemon syrup, or a slightly cracked top would make the cake feel more genuine. It was generously filled with lemon buttercream that was tangy and rich but again it felt too slick. Something more creamy, maybe with cream cheese would have worked well and offset the tang of the lemon to perfection. The New Zealand sauvignon, which accompanied my cake was excellent however.
All in all, a good and pleasant experience, and a lovely place to lunch in a small town, but not quite living up the hype that seems to surround it. It is stylishly presented and the B&B looks fab and seems to be reasonably priced too. if you want to know more, including reading about their hotel or some of the other gastropubs they own in the North Norfolk area then check out the website
http://www.byfords.org.uk/
As an aside, we had a brief walk around town after lunch and couldn't resist taking a photo of the pumpkins sitting in the rain outside the greengrocer.